Insurance offers rewarding, flexible, and stable careers.
Current agents love their jobs and newer workers would be surprised how great insurance careers are. With a new generation of workers starting full time jobs, insurance companies need to show how great this industry is. Insurance agents love what they do because the industry provides rewarding, flexible, and stable jobs that are fulfilling.
Insurance is a rewarding career because you can connect with people and help them. Doreen from Apple Valley Insurance said "helping to educate the client as well as build a personal relationship so they have the proper coverage" is a reason why she enjoys being an agent. Building a connection with others allows her to understand their needs and assist them better. The interactions agents have with people is fulfilling when they know that they have been able to help them.
COVID brought change.
COVID brought challenges to the insurance industry. Technology and persistence allowed agencies to succeed through the pandemic, and even grow. Insurance agencies, such as Apple Valley Insurance, transitioned to fully remote work, allowing employees to work from the comfort and safety of their own homes. Agencies have utilized technology like Microsoft Teams and Zoom to communicate. Insurance careers provide flexibility for those who would prefer to work remotely and adaptable hours for employees who need them. Insurance agencies offer flexible work schedules, helping employees balance work and home life.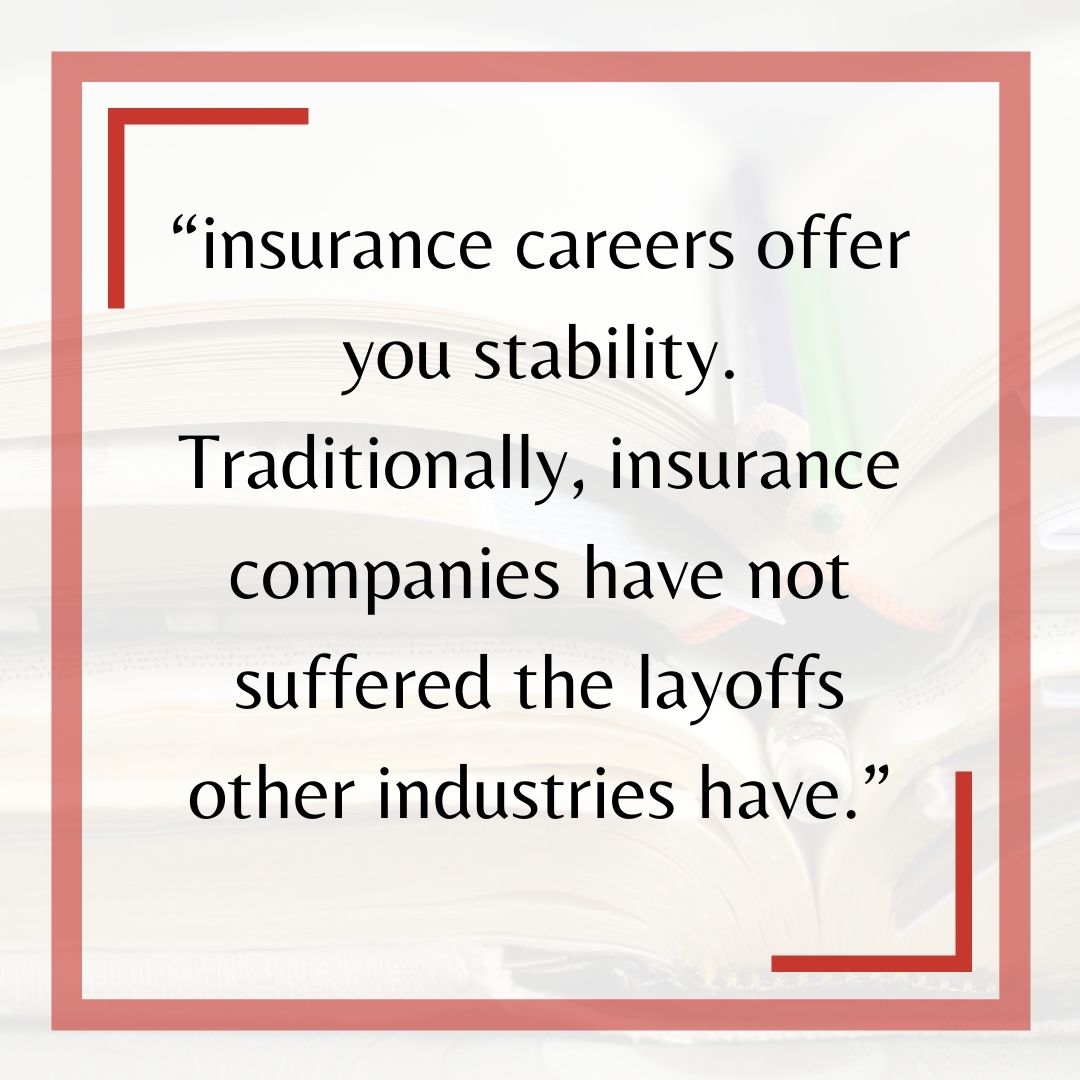 When you hear the word insurance, only jobs for agents or sales may come to mind. However, the insurance industry as a lot to offer, with opportunities that range from accounting to technology. No matter your interest, there is a place for you in insurance. Working in insurance also provides strong job security. David from Apple Valley explains "insurance careers offer you stability. Traditionally, insurance companies have not suffered the layoffs other industries have." There will always be a need for insurance, making it an important and stable career.
Getting your insurance license in Rhode Island
My goal was to obtain a property and casualty producer license to expand my knowledge and abilities. The Independent Insurance Agents of Rhode Island is a great website if you are interested in obtaining an insurance license, are curious about insurance as a career, or have any education questions.
The first step to acquire your insurance license is learning the material. An insurance preparation class for the test is not required, however, I highly recommend attending one. It provides resources and covers the material that will be included on the test. I took two different types of classes: one was live through zoom, and one was an online at your own pace recorded sessions.
Classes you can take.
Through the Independent Insurance Agents of Rhode Island website, I was able to purchase a packaged course that provided written material and practice quizzes. If you are someone who would like to learn at your own pace or needs a flexible schedule, this may be a good choice for you. The ability to learn at any time is an advantage of taking this course. Once you complete the course, you will have access to different study tools such as flashcards and practice tests to prepare you for the real exams.
The second class I attended was with an instructor and other learners through zoom. I signed up for this class on the Independent Insurance Agents of RI website. This class occurred over four consecutive days. I received several printed packets and a book that was used to follow along during class. Although there is less flexibility, I highly recommend taking this course. My instructors did a great job covering key information that was included on the test. On the last two days of the class, you will take practice tests that are like the exam. These allow you to see how prepared you are and what areas you need to focus on.
Between the two classes, I preferred the live zoom sessions. Highlighting what you need to focus on is a key advantage of taking this class. You can also ask questions about any of the material or the test itself. The value of the instructors makes this class an asset in the licensing process. I found the live zoom class better tailored to the exam itself, and there was a great benefit in being able to ask questions.
Taking the test.
To take the insurance license test, you create an account on Pearson VUE's testing website. When registering, it is important to note that you can take the tests online or in person.
If you need flexibility when taking the test, then taking it online may be the right option for you. If you are interested in taking it online, you will need to have a good internet connection and a quiet workspace. Pearson VUE requires you test your camera and microphone in advance, so make sure you have a computer that allows you to use both. I took my exam online and it worked well for me. The check-in process beforehand is easy and I was able to see my results shortly after I finished my tests.
The in-person test may be a better fit for you if you prefer writing on paper and are not that tech savvy. Although the hours for the in-person test are not as flexible, it is a good alternative to the online test.
You are given two hours for each test and a minimum score of 70% is required to pass.
Applying for your license.
Once you pass the tests, you are ready to apply for your insurance license! The application can be found on the National Insurance Producer Registry's website. When you apply for your license, you will also need to supply a background check that can be obtained through the State of Rhode Island Attorney General's office.
The Independent Agents of RI is a great place for additional information and resources about obtaining an insurance license in Rhode Island.  In addition, they have information for consumers and careers in insurance. I hope you consider a career in insurance and good luck on getting your license!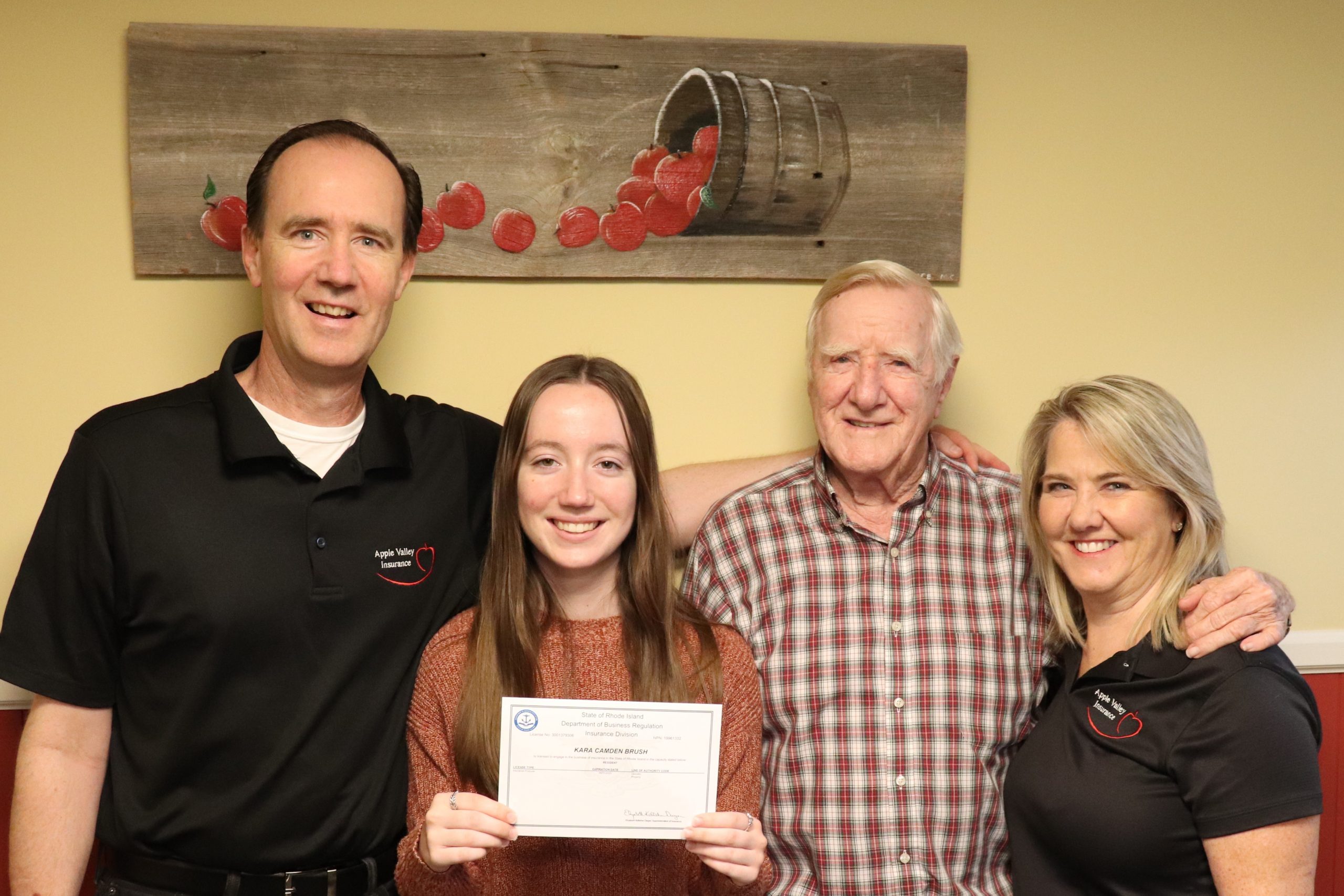 Kara Brush
Apple Valley Insurance
Greenville, RI 02828
(401) 949-0559
Apple Valley Insurance helps people and businesses with insurance needs.  We are a locally owned independent business located in Smithfield, RI.  We serve all of Rhode Island and have many insurance options.  Contact us today for a review of your personal or business insurance program.