Summer is one of the best times to enjoy desserts in Rhode Island. There are many businesses that sell refreshing treats to cool you off on a hot day. Here is a list of some of the best summer treats recommended by your friends at Apple Valley Agency. Everything on the list can be found or made in Rhode Island. Whether you live here and need something sweet, or you are thinking about visiting Rhode Island soon, here are some great treats we know you will enjoy.
Drinks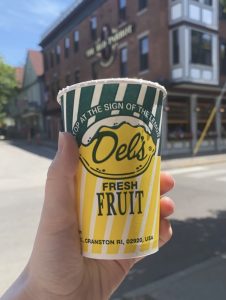 The classic Rhode Island drink, Del's frozen lemonade, is perfect for any summer day. It is a signature drink from Rhode Island and almost every Rhode Islander knows about Del's. If you have not heard of Del's or have never tried it, make sure you have some the next time you visit Rhode Island. This popular frozen treat is found throughout the state at stores and from roadside Del's trucks. Whether you are at the beach or on a walk, Del's is sure to help cool you down. If you are not a fan of the regular lemon flavor, you can try others such as watermelon, cherry, or blueberry. A secret that most people do not know about is that you can ask for two flavors at once if you cannot decide which one you would like. My favorite combination is half lemon and half watermelon. There are over 20 Del's locations in Rhode Island; no matter where you are, you will be able to find this frozen, refreshing treat.
If you are a fan of milkshakes, then you need to visit Newport Creamery for an awful awful. This is another cold treat that will cool you off on a summer day. During the summer, you will see lines of people outside of Newport Creamery waiting for an awful awful. There are a variety of flavors; however, my favorites are chocolate mint chip or oreo. Despite the word "awful" in the name, this drink is terrific.
Ice Cream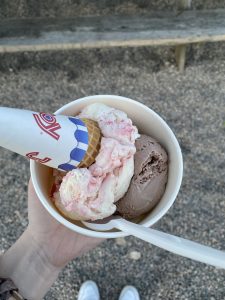 One of my favorite places to get ice cream is by the beach. Aunt Carrie's Ice Cream in Narraganset is the perfect place for ice cream. It is right near the ocean and there are plenty of picnic tables for you and your family to sit at. They have delicious homemade ice cream and fresh waffle cones. No matter what kind of ice cream you are craving, they will have it. My two favorite flavors are raspberry cheesecake and brownie batter. Other flavors from Aunt Carrie's include coffee oreo, smores, sea salt caramel, and dinosaur crunch.
Powdermill Creamery is a small business in Greenville, RI that also serves amazing homemade ice cream. They are located across from Waterman's Lake and have a great fresh water view. Powdermill has great quality ice cream and fresh waffle cones. They offer fun and yummy flavors such as chocolate peanut butter cup, mud pie, snickers, and lemon coconut cookie. If you are thinking about going, sunset is a great time to go. I love eating Powdermill's ice cream while watching the sunset over the water.
Cheryl from Apple Valley recommends that ice cream connoisseurs stop by Gray's Ice Cream in Tiverton, RI. Gray's serves famous homemade ice cream and is open year-round. One of her favorite flavors is their strawberry cheesecake ice cream. However, they have other interesting flavors like black raspberry, pumpkin, and even eggnog. Rhode Island has an abundance of ice cream shops with unique and delicious flavors for you to explore.
Other Treats
Allie's Donuts, located in North Kingstown, Rhode Island, is the best place for donut lovers. Allie's makes their donuts fresh in the store and they will make your mouth water. Some of their flavors include apple cinnamon, boston cream, and chocolate coconut. They even make big donut cakes! Allie's Donuts also serves hot and iced coffee to pair with your donuts.
If fried dough is a summer favorite for you, go to Iggy's Doughboys in Narragansett, Rhode Island. Iggy's serves fluffy, hot dough boys tossed in cinnamon and sugar. This is another popular and famous treat in Rhode Island that attracts many customers. The best time to go to Iggy's is during a cool summer night. Their hot food will warm you up and you will have a nice view of the ocean to look at while you are eating.
Make it Yourself
Your friends at Apple Valley also enjoy making their own treats. We love creating dishes with fresh fruit to have with our friends and family.
Fresh
Doreen from Apple Valley enjoys a patriotic red, white, and blue dessert. This is a dessert made of strawberries, blueberries, and whipped topping. It is refreshing and good to make for any family event. Whether it is for a cookout or the beach, this is a great treat to have.
Joan from Apple Valley loves having a fresh fruit salad with garden picked mint. If you enjoy making fruit salads, this is definitely a recipe that you should try. Mint pairs great with fruits such as peaches, strawberries, and cherries. This is great to prepare for a day at the beach or an afternoon outside with family.
Rachel from Apple Valley enjoys making her own frozen lemonade over the summer with her daughter. To make lemonade, you will need water, sugar, and lemons. This drink is great to make at home because it is quick and simple. Frozen lemonade is great for days when it is too hot to go out, but you are in the mood for something sweet.
Baked
One of the best fruits to have over the summer is peaches. When they are in season, I love making peach cobbler with my grandma. I recommend eating it when it comes out of the oven and adding some cold vanilla ice cream with it. Peach cobbler can be stored in the fridge and is just a yummy cold. If you like peaches, you have to make peach cobbler this summer.
If you enjoy grilling over the summer, you have to try grilled pineapple. It is one of my favorite summer treats. When I find out my Dad is turning on the grill, I immediately ask for grilled pineapple. Whether it is grilled slices or on a cabob with shrimp, grilled pineapple is delicious.
Kara Brush
Apple Valley Insurance
Greenville, RI 02828
(401) 949-0559
Apple Valley Insurance helps people and businesses with insurance needs.  We are a locally owned independent business located in Smithfield, RI.  We serve all of Rhode Island and have many insurance options.  Contact us today for a review of your personal or business insurance program.