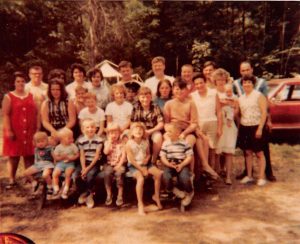 Every year since my Dad was four months old, his side of the family goes camping. This is a tradition that has been happening for over 50 years. For a weekend in August, we all stay at a campsite together and enjoy the outdoors. I get to see all of my extended family and we all spend time doing fun activities like swimming, fishing, and exploring. Camping is an easy and fun way for us to all reconnect every year. If you are thinking about having big family get togethers once a year, consider doing a camping trip. Although there are so many of us, sometimes camping essentials can be forgotten. It is important to double check what you are bringing to ensure you are fully prepared. When you are camping, it is difficult to find a place nearby if you need specific items quickly. Here is a list of items that will be helpful on your camping trip.
Rain Ponchos
The first item is a raincoat or rain ponchos. Even if there is no rain in the forecast, unpredictable things can happen. The story behind this item on the list is that I packed rain ponchos one year. My family told me not to bring them because it was supposed to be a sunny weekend. However, I brought them anyways. On the last day, it ended up downpouring and our tents began leaking. Thankfully, I had several rain ponchos to pass out to family members that had to dismantle tents in the rain. This is always a reminder to me that you must be prepared for any situation when camping. Simple items, like rain ponchos, can be overlooked, but can be extremely helpful when you need them.
Scissors
Another important item to pack is scissors. I find that many people forget to bring scissors or something that can cut different materials. If you end up using zip ties or duct tape and need to cut them, scissors will come in handy. It is good to have your own pair because if you need them in the moment, you know where they are. One night, I needed scissors, but everyone was asleep. It took quite some time to look around in the dark and find a pair. Bringing my own scissors would have allowed me to be more efficient.
Tent and Canopy Stakes
Before you leave for your trip, make sure you have enough stakes for your tent and canopies. Stakes can easily be misplaced and are a crucial part of your camping experience. It is unlikely that there will be spare stakes for you to borrow, so remember to figure out how many you need beforehand. If you do not have enough stakes while setting up, your tent may be unstable or it will cave in.
Bug Spray
No matter where you are camping, bring some bug spray. There will be bugs out at night and bug spray will help ward them off. Spray your shoes and the clothing you are wearing to keep them away. I know that your fellow campers will be happy you brought bug spray and will ask to borrow some. It seems like an easy item to remember, but it can easily be overlooked.
Warm Camping Clothes
During the day, it might be hot out, but it can get very cold at night once the sun goes down. Remember to bring some warm clothes when you go camping. Having good socks, sweatpants, sweatshirts, and warm hats will be helpful if you plan on staying up at night. Clothes that cover your skin are also important to avoid more bug bites. Wearing pants and long sleeve shirts at night paired with bug spray will repel bugs.
Tweezers
It is no secret that you will be around trees and wood, so there is a chance you could get a splinter. Pack a pair of tweezers just in case. They are a small item, so they will not take up much space in your bag. Tweezers will come in handy when your or one of your fellow campers is moving wood for a fire or collecting sticks to make smores. They can also come in handy if someone gets a bee sting. A bee stung me while I was camping and bees are common near the woods, so look out for them. You will be prepared in the event someone is stung.
Check Your Flashlights
While packing, check to make sure your flashlights work properly. If they have been sitting in a cabinet for a while, then you do not know the status of the batteries. It is important to make sure the flashlights can turn on. You do not want to find out at the campsite that the batteries are dead, and you do not have a backup flashlight. If your flashlight works and you do not know when the batteries were last changed, bring some spare batteries. Even if you do not use them, someone you are camping with may end up needing them. When you pack your flashlights, write your name in sharpie on them, or write your name on a piece of tape and put it on the flashlight. If you are camping with a large amount of people, you do not want to lose your flashlight or get yours mixed up with someone else's.
Hotspot & Cell Service
When you go camping, you have to expect that your cell phone will not have service. It is nice to spend less time on your phone and no cell service will help you do that. However, it is important that you can use your phone in the event of an emergency. If someone is hurt or lost, your phone will come in handy. If you have a wireless hotspot or cell phone, it is a good idea to charge it and pack it just in case. You should check the cell service coverage prior to your trip. Although you may not need to use it, you will know that you have it and where you can get cell service in the event of an emergency.
Check Your Insurance
"Growing up my family had a Travel Trailer, and I have relatives with a Fifth Wheel. I also have a cousin that had a truck camper at one time," says David from Apple Valley. In addition, David advises, "if you have an RV, you need a separate insurance policy. You need more than homeowners and auto insurance to provide proper protection. At Apple Valley we can help you insure all types of Campers and Recreational Vehicles. This also includes Class A, Class B, and Class C Motorhomes." Before you go camping, check your insurance to make sure you are covered.
Hopefully, this camping list helps you and your family enjoy camping as much as I do. If you are thinking about camping, I recommend you do so. It is a fun summer activity that allows you to get away from technology and enjoy the outdoors.
Kara Brush
Apple Valley Insurance
Greenville, RI 02828
(401) 949-0559
Apple Valley Insurance helps people and businesses with insurance needs.  We are a locally owned independent business located in Smithfield, RI.  We serve all of Rhode Island and have many insurance options.  Contact us today for a review of your personal or business insurance program.